We offer an unparalleled experience in the world of innovative automation!
Being a Roger Technology Business Partner means to have the chance to be involved in a important project with a significative role in the world of automatic openings. Roger Technology offers an unparalleked opportunity for al the distributors or resellers that have decided to specialize and qualify their way to do business.
Moreover, as Roger technolgoy, they work with the main target to sell and promote a product with a great mentality and above all woth the main scope to protect the final customer at the time of purchase of a solution or of a product, providing advice and assistance of primary level and a network of installers who are able to ensure the correct installation.
What we can offer:
Roger Technology is able to offer an unique range of exclusive and quality products, especially rich of a big passion that does not have any rivals inside its market sector.
Our philosophy in making the product is translated in a big passion and care for each single particular and especially in designing and developing a product of superior quality that makes the difference at the moment of choise, compared with many products in the market. Moreover, our product has to guarantee a simple and correct installation that increases its value and keeps its efficiency in the long term.
Roger Technology Premium Dealers:
We are always looking for new resellers that wish to become Roger Technology Business Partners and especially, we desire that partners can be our real successful story. Our main target is doing the way that our passion represents a big and wonderful story, that it can be told by our partners to the customers through the market. For this reason we created a representative brand of our sales network "Roger Technology Premium Dealers" where every day, we commit ourself to provide a big series of advantages as:
Continue technical product innovation
An ongoing study towards the simplification of the installation and the maintenance of the product
An ongoing research and use of construction materials of primary quality both from the mechanical point of view that electronic
Technical and commercial training courses
Pre - post sales project consulting
First level customer service
Marketing and Co-branding activity in the territory
Reward program and incentives based on the sales target that are defined and correctly dimensioned for each reseller
Start-up activity of new solutions and products

Who are the Premium Dealers Roger Technology:
Professionals dedicated and focused to propose solutions and products for the world of Home Automation that for the way in which they have been developed, they represent a real innovation of success.
The real Roger Tecnnology Business Partner is recognized by the logo "Premium Dealers", and he is a professional that:
He knows very well all the products of Roger Technology
He proposes with great experience correct solutions according to the real needs of the customer and the typology of installations
He promotes the brand "Roger Technology" thanks to suitable marketing actions towards the installers network.
He keeps himself updated in order to know the new solutions and products thanks to the training courses
He promotes his image and exposes in his sales point the brand "Premium Dealers".
He enjoys particular discount lines and the periodic promotions created for the sales network
He enjoys the CO-MARKETING activity developed through the Business Partner channel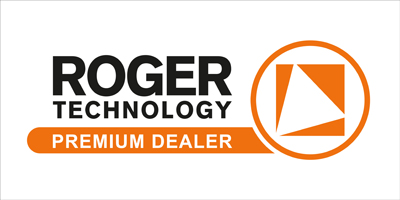 To find out all the advantages of our Business Partner Program, please contact directly:
Mr. Roberto Dal Bianco
Business Partner Developer
sales@rogertechnology.it
Mob: +39-377-2529786
[Or fill in the contact form to ask further informations by clicking on the following link]